Sports Betting In Delaware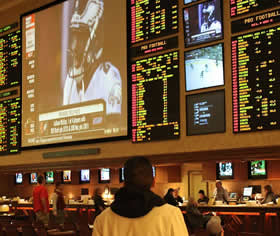 The state itself may be small, but sports betting in Delaware is a thriving industry. Delaware is one of the few states that has always offered residents the option to visit a local sportsbook to place wagers on their favorite NFL teams. Exempted from PASPA (the Professional and Amateur Sports Protection Act, 1992), the First State has for decades offered residents limited action on NFL games via parlay cards. These cards featured a three-game minimum, and they were offered by the state lottery.
Because the Delaware Lottery was (and remains) in charge of the NFL parlay card product, the state simply assigned the agency full oversight of expanding their gambling offerings in accordance with the new allowances yielded by PASPA's overturn. Thus, without any congressional action or interference of any kind, Delaware was quickly able to implement full-service sports betting at its three racino venues: Delaware Park Racetrack, Dover Downs, and Harrington Raceway.
Sports enthusiasts can visit these Delaware sportsbooks to bet on the biggest NFL, MLB, NHL, NBA, MLS, and NCAA games of the year. Additionally, Delaware sportsbooks offer action on other more obscure sports in the American market as well as international odds and lines on sports like soccer, cricket, rugby, and more.
Of course, given that there are only three venues that offer land-based betting, most DE residents likely won't want to head to their nearest racetrack every time they want to put $5 on the Eagles or Phillies. For maximum convenience, bettors can use legal online sportsbooks for sports betting in Delaware, with these sites typically offering betting lines on additional markets such as tennis, e-sports, golf, UFC, and more. Between visiting your favorite local sportsbooks and wagering online, residents have plenty of options for betting on sports in Delaware.
All in all, Delaware sports betting is as exciting as it is profitable. Here, you will find all the info you need about online sports betting in DE, along with details on your brick-and-mortar options. All sports enthusiasts in the Blue Hen State should be able to bet freely, and our page will give you suggestions on the best sportsbooks for sports betting in Delaware.
Does Delaware Have Legal Land-Based Sports Gambling?
Yes, Delaware has legal land-based sports gambling, but before PASPA's overturn, this was limited to the state lottery's NFL parlay card system.
In 2018, PASPA was overturned by the Supreme Court after their ruling in Murphy vs. NCAA. The Court found that the restrictions that the federal law put in place were unconstitutional, violating the anti-commandeering clause of the Tenth Amendment. After the ruling, Delaware and other states were able to start offering the same commercial sports betting that was previously only permitted in NV. Delaware launched full-scale sports wagering on June 5, 2018.
For a bit of historical perspective: Delaware was one of a few states that actually could have legalized, land-based sports betting. In 1992, PASPA outlawed physical sportsbooks in every state except Nevada, Delaware, Oregon, and Montana. NV had already legalized full-scale sports wagering, while the remaining three states had sports lotteries. That is why DE was able to offer limited NFL parlays for many years.
What Cities Have Sportsbooks In Delaware?
There are three different cities that residents can visit for legal sports betting in Delaware. Those that live in or are visiting the capital can stop by Dover sportsbooks (Dover Downs Hotel & Casino) to bet on sports. Dover Downs is the best sportsbook in Dover, DE, located in what could be considered the core of the Mid-Atlantic. The gaming venue is home to full-scale sports wagering on markets like NFL, NBA, NHL, MLB, NASCAR, and more. This location is also known for having excellent sportsbook bonuses and promotions, and the Dover International Speedway surrounding Dover Downs' 5/8-mile harness horse racing track is a major NASCAR oval.
Sports betting is also available in Harrington, DE. As far as Harrington sportsbooks go, Harrington Raceway & Casino is your best bet. Murphy's Race and Sports Book now accepts bets on professional and collegiate football, basketball, baseball, and hockey. Sports enthusiasts can also wager on golf, motorsports, soccer, and hockey. During football season, the sportsbook is open from 10:00 AM to midnight on the weekends.
The final destination for DE sports betting is in Wilmington. Delaware Park Racetrack (aka the Casino @ Delaware Park) is the go-to location for sports betting in Wilmington, Delaware. Just south of the Delaware Memorial Bridge, the sportsbook at Delaware Park offers some of the best action in the state. There is plenty of Las Vegas-style sports betting fun to be had, with the latest betting odds on all of the popular sports markets. Plenty of TVs and a comfortable seating area make the Delaware Park Sportsbook an ideal location to bet on sports.
Is Online Sports Betting Legal In Delaware?
Unlike the vast majority of states, Delaware is what we call "regulated." This means the state has passed legislation pertaining to Internet gambling. While this is unique in its own right, this legislation is pointed at casino-style gambling, not sports betting.
That said, it is still as easy as ever to bet on sports on the Internet without getting in trouble. Why? For one, the state is expected to start regulating their own sports betting sites in the near future. These sites will be offered by the racinos that have their own sportsbooks. Furthermore, residents can still use offshore online sportsbooks because there are no laws that specifically prohibit the use of these sites.
Delaware Sports Betting Laws + Statutes
Delaware is an interesting state because of its history with PASPA, its recent online gambling legislation, and the fact that it became the first state to offer full-service sports betting post-PASPA. As such, it's important to have at least a basic understanding of how DE laws apply to sports betting, since the state is in a unique position.
Delaware sports betting law initially only authorized NFL parlay cards, but this is no longer the case. HB 100 went into effect on 05/14/2009, amending the previous code relating to the state lottery. The law reintroduced the NFL sports lottery program (NFL parlay betting), which had been on a hiatus, and it also preemptively legalized full-scale sports betting pending a PASPA overturn. At the time, PASPA still prevented the state from offering commercial sports betting on all sports and wager types. Once the federal ban was lifted, full-service sports betting in Delaware was able to begin.
Which Sports Betting Sites Accept Delaware Residents?
Even though Delaware has regulated online casino gambling, it is still as easy as ever for in-state residents to log onto a number of sports betting websites. Why? Because Delaware is one of the most active sports gambling states in the US, and as such, it is served by most of the top offshore sportsbook betting sites on the Internet.
While there are plenty of options to consider when investigating possible websites to sign up with, it's important to find a website that is reliable and easy to use. Any site you pick should also offer player perks like deposit bonuses, 24/7 customer support, a wide variety of sports to bet on, and simple deposit and withdrawal systems. Additionally, a top sportsbook has to offer mobile betting and live betting, and supporting cryptocurrencies like Bitcoin and other altcoins is an absolute must.
To help you find a Delaware-accessible sports betting website, we've included a handful of reviews on the top-ranked Internet destinations to get you started. Read on to find out more about these A-rated online sportsbooks!
Facts About Legal Online Sports Betting In Delaware
Land-based sportsbooks in Delaware offer a full-scale wagering menu
Delaware online sports betting sites offer every type of bet and have much better variety
On top of better wagering action, you will receive a deposit bonus when signing up at Delaware online sports betting sites
SportsBetting's Sportsbook - Better Betting Options Than Land Based Books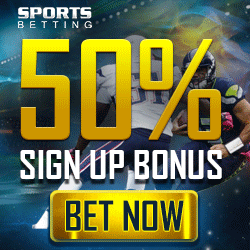 Sports betting is not a new practice, as people have been putting money down on sports as long as they (sports, not people) have existed. It's no surprise, then, that not only is sports betting legal in the US, but that it is also extremely popular...especially online! And there is no better place to bet online than at SportsBetting. This site has been running a professional sportsbook for over 20 years, and they have perfected the art of keeping their users happy during that time.
Delaware residents will be treated to generous promotions including seasonal offers such as reduced juice on Major League Baseball + NBA basketball games. Furthermore, SportsBetting has special bonus codes for NFL season, which really enhance deposits from those funding accounts for the first time, as well as veteran bettors refilling their accounts. These bonuses can reward DE residents with up to $1K in sportsbook free plays with match rates in the range of 25% to 50%! (To get the most current promo codes, be sure to check out SportsBetting's promotions page when signing up or making a fresh deposit.)
BetOnline Sportsbook - Unlimited 50% Match Bonus On Your First Deposit For Football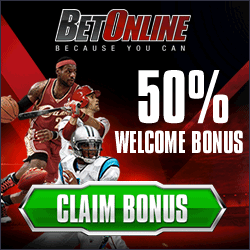 BetOnline is seeing a sharp rise in its player base, even in states like Delaware, where land-based sports betting options should be hogging the scene. The reason for this is that BetOnline offers unparalleled service that simply can't be outdone by any of its competing on-land or online sportsbooks that accept Delaware residents. BetOnline has been a leading sports betting website for over two decades, and the site is completely safe and 100% legal to use.
With the live betting function found at BetOnline, users are never without something to bet on, even if the match or game they're interested in has already started. Another terrific feature found here is BetOnline's safe and easy deposit methods for sports betting in Delaware, which even include cryptocurrencies like Bitcoin, Ethereum, Litecoin, Bitcoin Cash, and DASH. Deposit up to $25,000 with these cryptos, or use your credit or debit card for instant deposits with lower limits.
Top Delaware Sports Betting Sites
Rank
Online Sportsbooks
Bonuses Offered
Rating
US Players?
Play Now!




Live Betting At Delaware Sportsbooks
Live betting, aka in-game betting, is a newer phenomenon in the sports betting industry, which allows you to place bets during a given contest rather than having all your tickets in before the game starts. With live betting, you can wager on dynamic lines and odds that change to reflect the current trends and paces of athletic contests as they're being played in real time. All the best legal online sportsbooks offer live betting for DE residents, and the three in-state sports wagering venues also have live betting available.
Mobile Delaware Sports Betting Apps
Most sports bettors expect to get a fully-featured app experience when betting on their iPhones, Android phones, and other smartphone or tablet devices. However, none of the top offshore books offer official apps in the US App Store and Google Play stores. Whether or not this will change in the future is currently unknown, but luckily, it is also irrelevant. That's because sportsbooks like SportsBetting, BetOnline, 5Dimes, and other top-rated providers have all made mobile portals for their award-winning websites. These mobile betting experiences require no extra downloads, and with small-screen-optimized browsing and betting, you can easily wager on your favorite sports no matter where you are in Delaware (or the rest of the country).
Does Delaware Allow Pari-Mutuel Betting?
Delaware is home to Dover Downs, Delaware Park, and the Harrington Raceway. All of these thoroughbred racing facilities are partners with casinos, making them "racinos." This means they have electronic gaming options, table games, and pari-mutuel horse racing betting. In addition, these racinos are home to the country's first regulated online gambling platforms and offer sports wagering as well (albeit official online wagering hosted by these venues is not yet offered in Delaware).
Other Types of Gambling in Delaware
Delaware is one of the most forward-thinking states in the US when it comes to gambling. To begin with, it has a robust state lottery, several charity bingo halls, and three interesting and eventful horse-track-based racinos. As mentioned, these racinos offer video poker, slots, blackjack, sports betting, and more.
In addition, Delaware was the first state to actually launch regulated Internet casino gambling. This means that the state's existing casinos are allowed to operate online casino websites. You have to meet age and residency requirements to access them, of course. All in all, a whole new age of gambling is taking off in Delaware, and residents can enjoy a full menu of wagering options.

How Old Do I Have To Be To Bet Sports Online In Delaware?
In the state of Delaware, it is a good idea to be least 21 years old to bet on sports online. The majority of online sports betting sites accept bettors at 18, however the legal sports betting age in the state always takes precedence. We encourage all residents to bet responsibly, otherwise there could be implications concerning your online sportsbook account. Those who bet while underage are liable to having their funds surrendered and their account permanently shut down. Once you are 21 or older, you can enjoy sports betting at just about any online sportsbook that serves DE residents.
What Teams Can I Bet On In Delaware?
Being that Delaware is a rather small state, it should come as no surprise that there are no professional teams in the area. There are many loyal fans of the University of Delaware's Fightin' Blue Hens and other local college and high school teams, but you may not find many betting odds on such small market programs. Regardless, there are a number of teams that you can bet on in Delaware that hail from surrounding areas and which DE residents have adopted as their own. The following is a list of the popular collegiate and major league sports teams that DE residents tend to wager on:
Teams in Delaware:
Delaware Fightin' Blue Hens

 (NCAA, University of Delaware)

Delaware State Hornets

 (NCAA, Delaware State University)

Maryland Terrapins

 (NCAA, University of Maryland)

Washington Redskins

 (NFL)

Philadelphia Eagles

 (NFL)

Baltimore Ravens

 (NFL)

Washington Nationals

 (MLB)

Philadelphia Phillies

 (MLB)

Philadelphia 76ers

 (NBA)

Philadelphia Flyers

 (NHL)
Is Betting Real Money Online Safe?
With some of the laws surrounding sports betting in the US, many DE residents want to know if betting real money online is safe. We are here to let you know that you can absolutely wager and win real money without having any legal or security concerns. All the top offshore sportsbooks provide several secure banking options that are not only reliable but are also in compliance with their regulatory guidelines.
From a security standpoint, online sportsbooks are perhaps safer than typical sites used for online purchases, like eBay or Amazon. The operators of the online sportsbooks use the latest technology to make sure that all financial transactions are encrypted. When you make a deposit or request a payout at an online sports betting site, you can count on it being received. There are various anti-fraud and anti-theft measures taken to ensure that your cash is safe. And if you choose to use a cryptocurrency like Bitcoin, your transactions are secured on the blockchain, which is quantum-hacking-resistant. When you use a trustworthy sports betting site, you never have to worry about concerns of safety.

Best Deposit Options For High Limit Betting!
High stakes bettors have to take extra considerations when banking at an online sportsbook. The best deposit options for high-limit betting have increased maximums while still maintaining minimal fees. The preferred deposit method for high rollers is bank wire transfer, though this is being slowly replaced by cryptocurrencies like Bitcoin.
With a bank wire transfer, funds are sent directly from your bank account to your online sportsbook cashier. While the process depends on the speed of your bank, most transfers are completed within 3-5 business days. The best part about bank wires is that sportsbooks like SportsBetting and BetOnline do not have any limits on the amount you can send. That's right, you can make deposits with no max when you initiate a bank wire! Your bank will often charge a fee for sending the cash, but it is relatively small compared to the amount you are depositing.
Bitcoin high roller sportsbook deposits have also become quite popular. The cryptocurrency transfers almost instantly (usually within just a few minutes), and there are no additional fees. You can deposit anywhere from $25 to $25,000 in one transaction, depending on the online sportsbook that you use. There are additional digital currencies that are excellent for high roller sports betting, including Litecoin, Bitcoin cash, Ethereum, and DASH.
Checks are the third best deposit option for high rollers. You can get a cashier's check in amounts from about $1500 to $15,000 at most books and mail them to your online sportsbook. It is recommended that bettors use FedEx, DHL, or UPS so that funds reach the cashier within 2-4 business days. (As with any transaction involving a cashier's check, there is some risk in sending larger amounts. However, a reliable courier service will often allow you to purchase insurance to cover the lost check.) There is usually not a fee for making a check deposit, and after you have made one successful deposit, your sportsbook may increase your limit. High rollers have plenty of deposit options at high roller online sportsbooks that offer sports betting in Delaware.